You are hereCharles River Railroad Bike Tour
Charles River Railroad Bike Tour
---
Event Location:
South Station 700 Atlantic Avenue Boston, MA 02110-2201

MassBike
and the
Bay Colony Rail Trail Present:
Charles River Railroad Bike Tour
Saturday May 28, 2011
What: We will follow the route of the old Charles River Railroad. The Charles River Railroad was how they brought in all the gravel to fill the Back Bay.
It was also the base on which entrepreneurs the second half of the 18th century thought that they could build one of the major railroads of Southern New England, with grandiose names like the Boston and New York Central Railroad, and later the New York and New England Railroad. They were wrong, and the entire system, including what was left of the Charles River Railroad was taken over by the New York, New Haven, and Hartford Railroad at the end of the 1800's.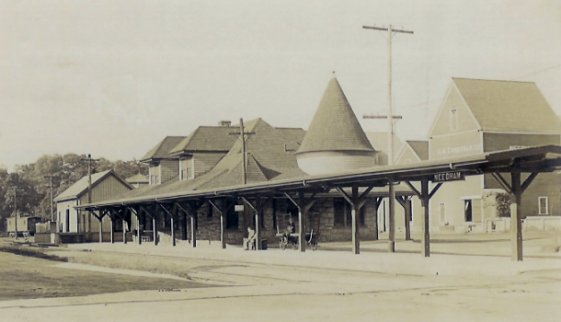 Needham Station when it still had its roofs
Today, parts of the old Charles River Railroad are used by the MBTA and the rest has been abandoned. But there is still a lot to see, and along the way we will stop at a number of old railroad stations. And you'll be surprised to learn just which parts of the Charles River Railroad are still being used by the MBTA!
The route is 25 miles and most of it is pretty flat and level. We will average about 5 miles per hour, so the ride should be an easy one for most cyclists. We'll make a stop for ice cream at the old Needham Junction Station, and also stop to look a the stations in Millis, Dover, Needham Center, Newton Upper Falls, Newton Highlands, and end at Newton Centre. After the ride, we will lead people back to Boston, or you can catch the train back to Boston at Newtonville (about a 15-minute bike ride from Newton Centre).
When and Where: Meet Saturday May 28, 2010, 2009 at 9:00AM at South Station. Make sure that you leave enough time to buy your ticket and get onto the train to Franklin by 9:15! Helmets required. Steady rain cancels.
Registration: Registration is optional. To register, click here.
Map of the biking route: Charles River Railroad Tour 2011
For more information contact:
Dick Bauer <dick.bauer@alum.mit.edu> or Tom Connors <connors.tom@gmail.com>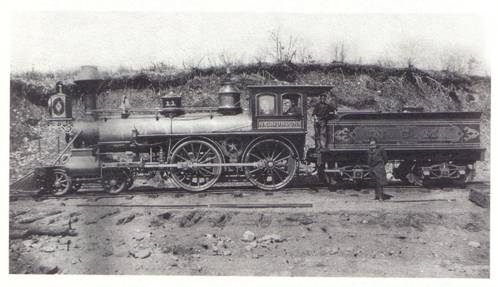 N.C. Munson ran the Charles River Railroad and named this locomotive after himself in 1864!
Location
Javascript is required to view this map.